Affordable Self/Custom Build Housing at Reservoir Lane, Petersfield
The project at Reservoir Lane is for the facilitation of self and custom build homes that remain more affordable than the open market equivalent in perpetuity. They are to be reserved for means tested households with local connections.  The site is also to include a small number of affordable homes for rent to local households, which will be retained by the Trust.
Those households interested in a plot or a home at Reservoir Lane can follow and join the process online at www.reservoirlane.co.uk.
Petersfield CLT holds an option agreement with the main landowners and has to date received over £140,000 in government grants for pre-development costs.  The funders, including Homes England, East Hampshire District Council and Petersfield Town Council have backed the proposal for increased affordability in perpetuity.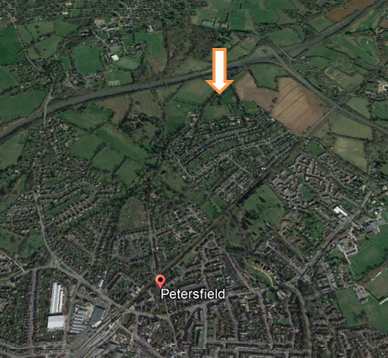 The site, also known as 'H11' is located along Reservoir Lane and indicated on the above arial photograph of Petersfield. It was allocated under policy HP7 for self build housing in the Petersfield Neighbourhood Plan for those with a local connection
CLT Objectives at Reservoir Lane:
To enable the transfer of land from its current private site ownership status to private individual plot holder ownership status with model covenants in place to procure specific and measurable increased affordability in perpetuity.
To oversee the authoring of a design code for the site which will govern the character and nature of the development as a whole.
To define the scope of each individual plot with a plot passport so that there are agreed parameters of size, building location, building facing materials and the like.
To carry out the infrastructure that will support the development as a whole, the road, drainage and other utility connections, and site landscape.
To enable a wide cross section of the local community to express an interest in building their own home affordably.
To increase the long-term stock of quality energy efficient homes for those with a local connection.
To incentivise the self and custom building of low energy homes.
To facilitate the development of a long-term asset in the community via a supply of affordable homes and a sense of place.
Example Plot Passport
This illustrates the principles employed on another comparable project to identify for potential plot purchasers the development opportunities and constraints on each individual plot.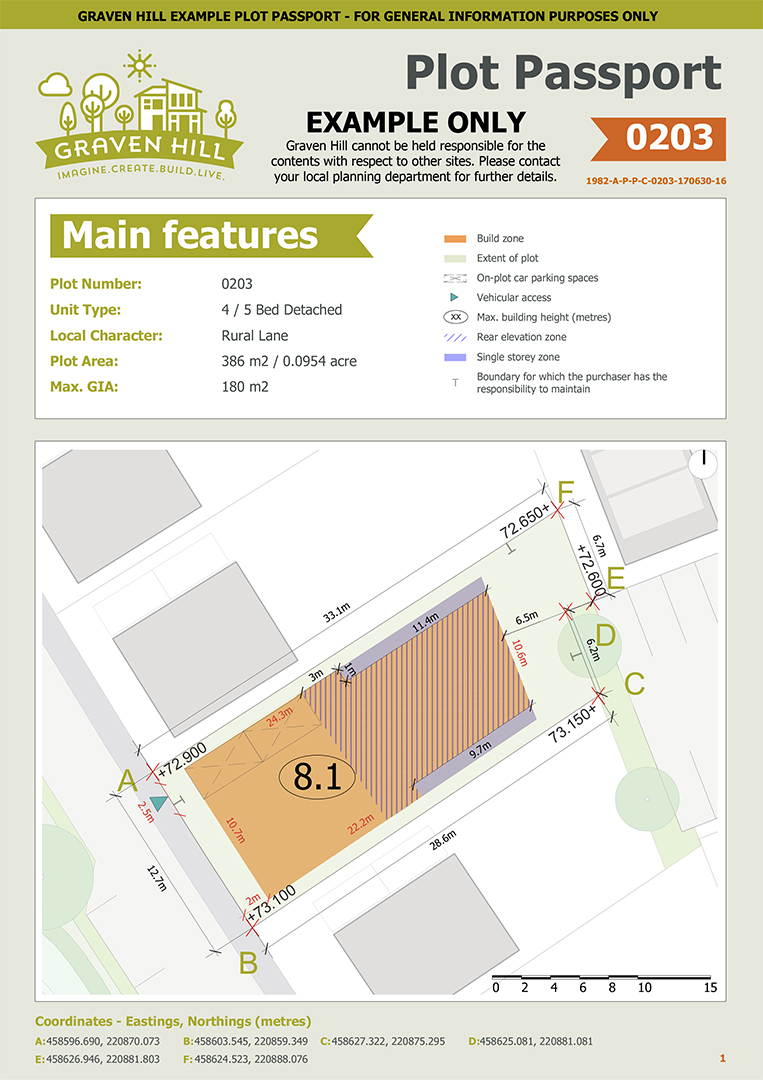 Note- this is an example only and does not constitute actual advice for any specific site. Petersfield CLT or Graven Hill will not be held responsible for the information it contains in respect of Petersfield CLT's Site H11 project.